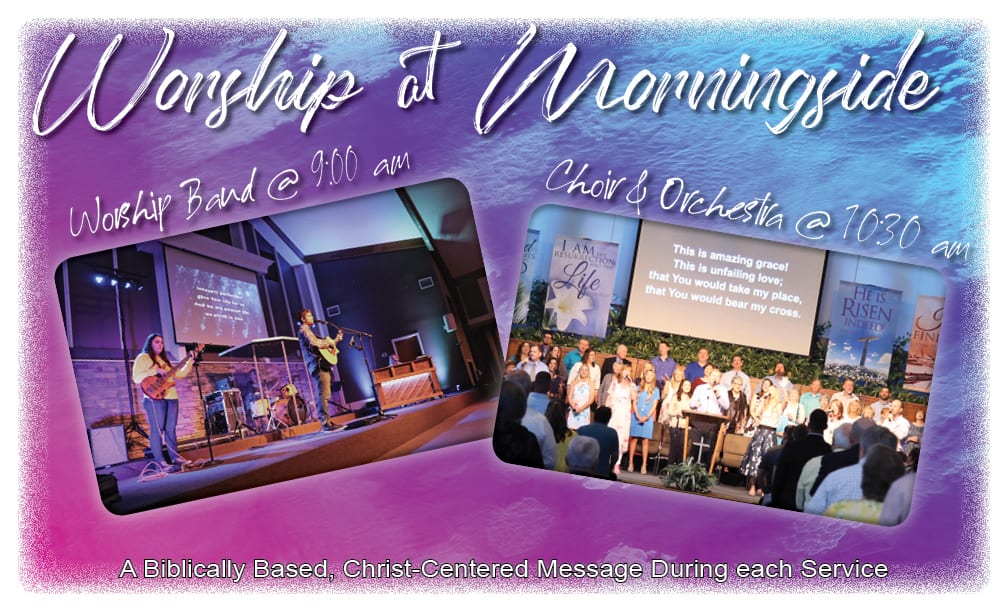 Music & Worship
We believe that every believer in Jesus Christ should be involved in worship. In fact, the worship of God should be a part of our everyday life. Psalm 34:1-3 says: I will bless the LORD at all times; His praise shall continually be in my mouth. My soul shall make its boast in the LORD; the humble shall hear of it and be glad. Oh, magnify the LORD with me, and let us exalt His name together.
At Morningside we offer opportunities for you to be involved in worship through the choir, orchestra, drama, audio/visual, praise teams, or just singing with all of your heart from the congregation.
In addition to our regular worship services, the Music and Worship ministries present special presentations like Easter Pageants and/or special Christmas presentations.
Adult Choir
The choir is the hub of the worship ministry at Morningside. This is the place where Adults (college & up) get involved in the music ministry. The choir is a group of "worship leaders" all dedicated to magnifying the Name of the Lord and leading God's people in worship each week.
This choir leads God's people in worship each Sunday morning at Morningside. More chairs are being added in the choir loft because of continued growth. Praise the Lord! Come grow with us. The Adult Choir rehearses on Wednesday evenings at 6:30 pm in the school year and 6:00 PM in the summer months.
Youth Choir (2 Chronicles 5:13)
Our Student Choir meets on Sunday evenings at 5:00 pm. Each February we combine with other Youth Choirs in Tallahassee to present a musical. This ministry to Tallahassee has been taking place since the 1970s.
Kid's Choir
Our Kid's Choir ministry offers an opportunity for young voices to learn to praise the Lord through song. We separate our children into two choirs:
PreK- 1st Grade Choir
2nd – 5th Grade Choir
These choirs rehearse on Sunday evenings at 6:00 pm during the school year. The older choir presents a musical each year or joins with the Adult Choir in their Christmas presentation. They also have opportunities to sing during the Sunday morning Worship service. If you have children in this age group, make sure that they are involved in our Kid's Choirs.
Instrumental Ministry
We are thankful for our instrumentalists at Morningside. God uses them each week to enhance and bring excitement to our Worship services. We are always looking for new instrumentalists to join with us. Please let us know if you are interested. We rehearse Wednesday evenings at 5:30 PM and Sunday mornings at 8:15 AM.
We have many people involved in the music and worship ministry at Morningside and there is always room for more.
Join with us as we magnify the Lord and exalt His Name together!
If you are interested in any of these ministries, please contact the Church Office or Music Ministry by email at worship@morningsidebc.org
Mark Morris, Associate Pastor/Minister of Music
Email: worship@morningsidebc.org
Phone: 850-878-5503